Get back to the activities you love, without surgery.
Complete this form to receive Regenexx® patient information by email.
Regenexx® Procedures for Knee Arthritis, Meniscus Tears, Tendon & Ligament Tears, Overuse Injuries and Other Conditions.
Regenexx® Procedures are non-surgical injection-based procedures for people suffering from knee pain due to common injuries to the knee Meniscus, ACL, MCL, and other structures, or who are experiencing degenerative conditions such as Osteoarthritis. These procedures utilize concentrated repair cells that are obtained from your own bone marrow or blood to promote your body's own natural ability to heal.
Traditional options for patients suffering from these conditions include arthroscopic knee surgery to repair ligament tears, meniscus, or total knee replacement. With those surgeries, months of rehab are required, and the patient must be aware of and prepared to take on the risks. As an alternative, Regenexx procedures are designed to help reduce knee pain and improve function with precise highly specific image-guided medical procedures.
This is not a complete list, so please contact us or complete the Regenexx Candidate Form if you have questions about whether you or your condition can be treated with these non-surgical procedures.
Arthritis
Meniscus Tears
ACL, MCL, PCL, or LCL sprain or tear
Knee Instability
Patellofemoral Syndrome/Chondromalacia
Pes anserine bursitis
Baker's cyst
Patellar tendonitis
Biceps Femoris Insertional Tendinopathy
Hamstrings Tendinopathy
Regenexx® Procedures provide non-surgical treatment options for those suffering from pain related to osteoarthritis, joint injuries, spine pain, overuse conditions, and common sports injuries. These medical procedures are only performed by highly-skilled doctors and are used to help reduce pain and improve function. Regenexx procedures have helped thousands of patients improve their quality of life, return to the activities they enjoy, and avoid the need for surgery or joint replacement*.
Regenexx Physicians represent a very selective, highly-skilled, interventional orthobiologics network that is 100% focused on orthopedic conditions. All Regenexx physicians are musculoskeletal experts with extensive training and experience in the diagnosis and treatment of musculoskeletal conditions, as well as complex, image-guided injections of your body's own healing agents to treat orthopedic issues. Regenexx patient outcomes are tracked in a registry and with that information, we provide transparent outcome data (below) for those who may be considering this treatment option.
Want to find out if you are a Regenexx Candidate? Complete the Candidate Form.
Your Alternative to Knee Surgery
Surgical options for those dealing with painful knee issues range from arthroscopic knee surgery to total knee joint replacement. Recent research has shown that some of the most popular arthroscopic surgeries, such as meniscectomy, provide little benefit to the patient. Knee replacement is extremely traumatic and carries risks of chronic pain and toxic wear particles entering the bloodstream. Surgical risks aside, all surgeries require months of painful rehab to regain strength and mobility. Most knee surgeries also accelerate the cascade of degeneration that leads to Osteoarthritis.
We have seen exciting results on difficult cases, such as complete muscle and ligament tears, and we have helped thousands of patients with arthritis avoid knee replacement and continue to do the things they love with little or no pain. Most Regenexx patients experience little downtime from their procedure and are encouraged to return to activity as they begin to feel better.
Your Regenexx Physician will determine if you are, or are not, a Candidate for these procedures and recommend surgery if that's what's needed.
How Stem Cell Therapy & Platelet-Rich Plasma Injections Work
Stem Cell Treatments
Elbow pain can prevent you from working, taking care of your family, or exercising to maintain good health. Pain and dysfunction of your elbow may be the result of injuries, overuse, or arthritis. Treatment for elbow problems was once limited to ice and rest, pain medications, physical therapy, and steroid injections; surgery was done in severe cases. Fortunately, advances in medical technology have improved treatments for elbow injuries, overuse, and arthritis. Stem cell therapy is perhaps the most innovative new treatments for elbow problems.
Stem cells are a special type of cells that can "differentiate," or turn into other types of body cells. There are thousands of stem cells already present in your body; when you hurt bone or tissue in your elbow, nearby stem cells rush to the scene to create replacement tissue. The problem is that there isn't always enough stem cells in the area to do the job well. What's worse is that we lose stem cells as we age. Stem cell therapy for elbow problems involve taking out some of your stem cells, concentrating them and injecting them into your elbow, where they go to work repairing damaged tissue.
The elbow is a complex joint, consisting of three bones, muscles, tendons that connect the muscles to the bones, and ligaments that protect and hold the ends of the bones together. Elbow conditions affect these anatomical structures of the elbow to cause pain and dysfunction.
Blood Platelet Treatments
(PRP Injections)
Chicago Arthritis and Regenerative Medicine uses the power of platelets or what's known as PRP injections to heal elbow pain and dysfunction. Platelets clot blood to stop bleeding, of course, but they also contain growth factors that speed healing and stimulate stem cell activities. Platelet-rich plasma (PRP) injection procedures involve gathering platelets from your blood, concentrating them in plasma (the watery portion of blood), and injecting the platelet-rich plasma directly into your elbow. PRP injection for elbow issues is fast, safe and effective. Patients swear by PRP for tennis elbow and other conditions.
PRP injections are regenerative treatments, which mean they boost the body's own natural healing power. Our procedures provide the body with the stem cells and platelets it needs to heal a variety of elbow conditions.
Common elbow conditions include:
Golfer's elbow (medial epicondylitis) – an overuse injury resulting from repetitive hand motion, such as swinging a golf club, using a hammer, or throwing a baseball; affects the tendons on the inside of the elbow
Tennis elbow (lateral epicondylitis) – an overuse injury often experienced by those who play racquet sports, cooks, painters, carpenters and more
Osteoarthritis – a type of arthritis resulting from an elbow injury or wear and tear; the condition wears down and damages connective tissue in the elbow
Injuries – sprains and strains to the elbow joint can cause pain, joint instability, swelling, decreased range of motion
Common Knee Conditions
Osteoarthritis
Knee replacement surgery comes with many serious risks and complications, but is often considered to be a straightforward and accepted approach to treatment for those suffering from significant arthritis or injury in this joint. Before you consider knee replacement, learn what Regenexx can do for you.
Meniscus Tears
Meniscus tears are one of the most common injuries we treat. The last option anyone should consider for treating a meniscus injury is the surgical removal of all or some of this important structure. Click below to learn why Regenexx is likely a better choice than meniscus surgery.
ACL Tears
Knee ACL tears are a very common injury. The rush to surgery has long been due to the traditional thinking that an ACL will not heal. Our experience treating ACL tears with the Regenexx patented bone marrow concentrate treatment has shown that it may be a better option for those who have experienced a partial or complete non-retracted ACL tear.
Why Knee and Hip Replacement May Not Be All It's Cracked up to Be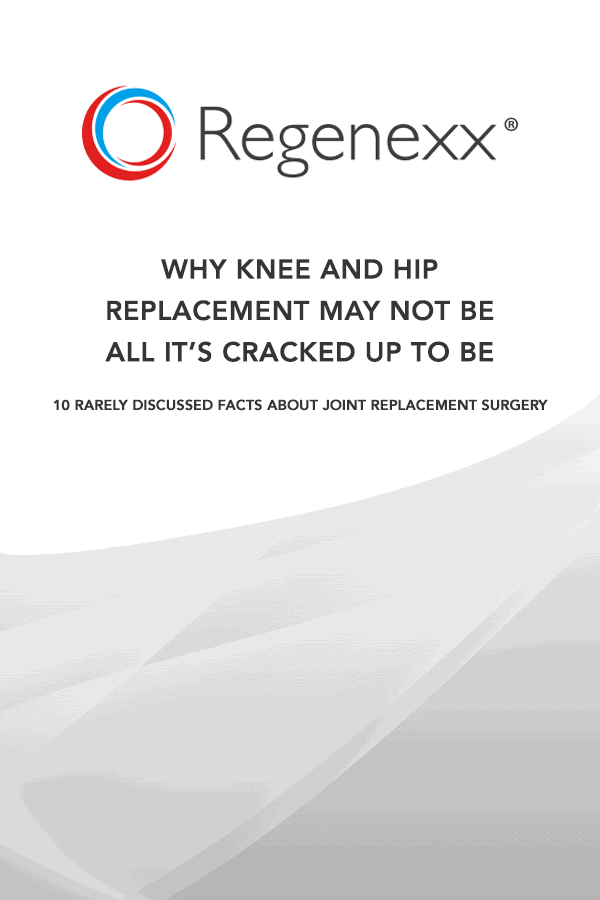 Knee and hip replacement surgeries come with many risks and complications. Several years ago we queried the National Sampling System for Medicare and found that in the year 2008 alone, there were 17,500 serious complications related to knee replacement surgery resulting in 5,000 patient deaths.
If joint replacement is something you are considering, please take the time to read this report. These 10 facts come from the Regenexx website. Our goal is to provide information that will help you make the right choice for you.
Download Ebook
Regenexx® Patient Success Stories
*DISCLAIMER: Like all medical procedures, Regenexx® Procedures have a success and failure rate. Patient reviews and testimonials on this site should not be interpreted as a statement on the effectiveness of our treatments for anyone else.